Good day!
I have my Etsy shop open again, and some have found me there, and some customers have not yet realized my shop it open. It was down for a few months, where I sold on Artfire, but now I'm back to Etsy, and it feels so good!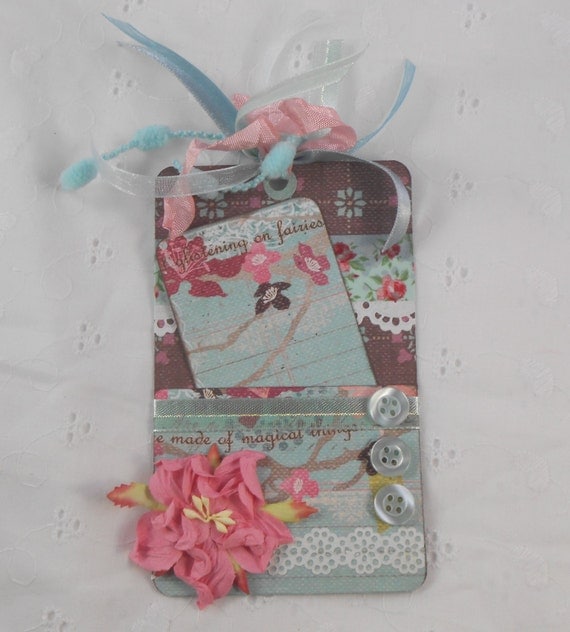 I have been busy making tag sets and I'd like to show you one that I made recently. It is super fun to do, I watched a tutorial on youtube and the lady inspired me to create some of my own! I haven't gone back there since and I don't remember the address or anything, so I can't share. Next time I'll remember to write those things down to share with you.
So, I made my own tag using double sided cardstock. fold it at the bottom, how ever large you want you pocket to be, stick the flap to the original side, make sure your adhesive only glues together the outside edges because we need a pocket for the journaling tag. After that I cut a tag from the flip side of the paper I was using, set it in the pocket to make sure it fits, you can punch a hole at the top if you like and start decorating there, this tag and holder I have punched the hole at the top of the holder and put tons of ribbons up there (as many as fit in the hole at the time).
Then is the favorite part! You get to decorate your tag! I used stick on lace ribbon, washi tape, a flower I had left over from another project and some pretty buttons. I also used some green ribbon, which is half organza and half satin, with a pretty filament in the middle. I also used some of my vintage wrinkled ribbon at the top, which I think go great with the wrinkly flower I chose!
I hope everyone has a great day!
Comments are welcome!
Talk to you soon!